Contact Us Today to Learn More!
---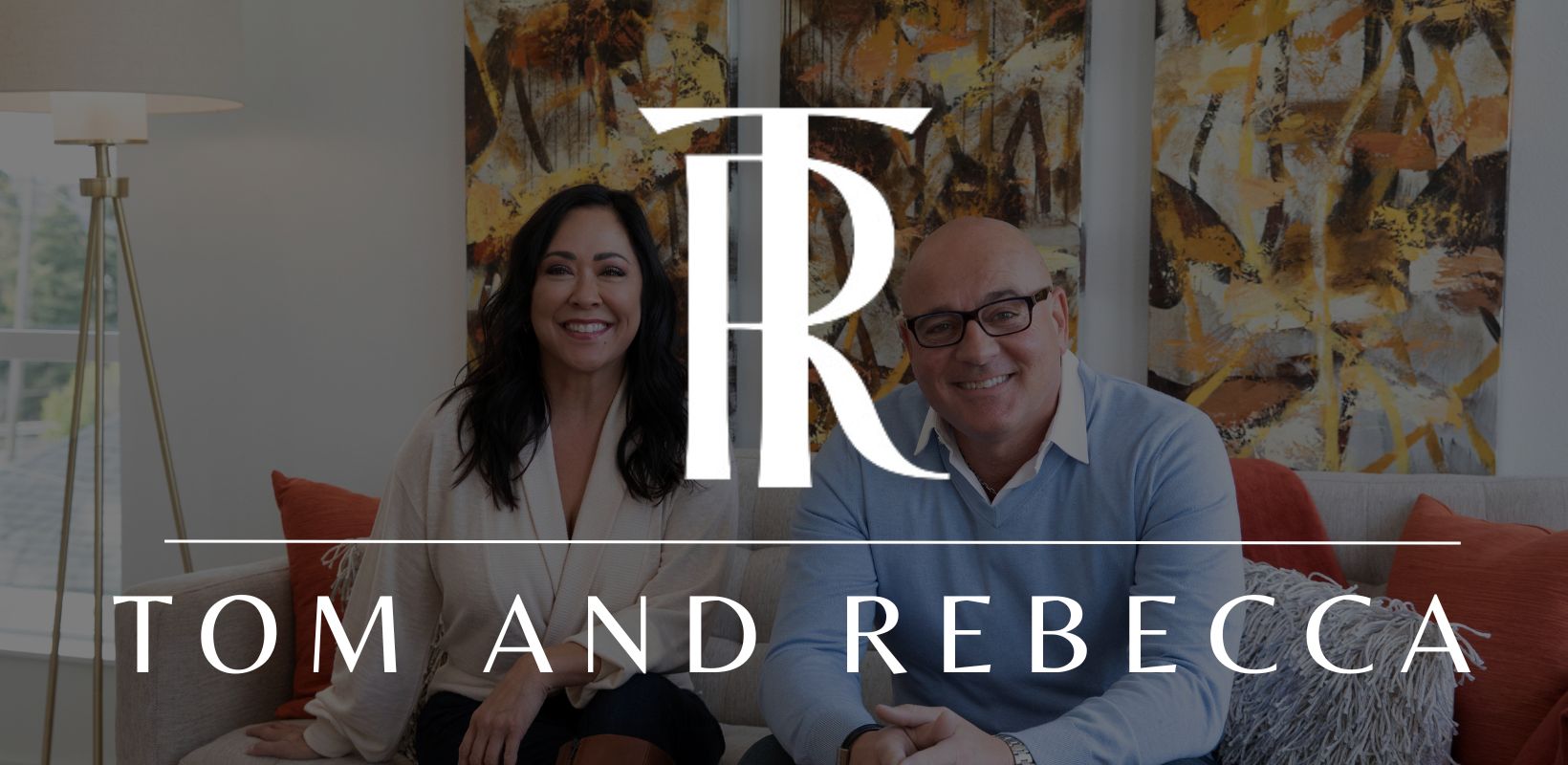 The Fun and Efficient Leaders of Alchemy's Retail Brokerage!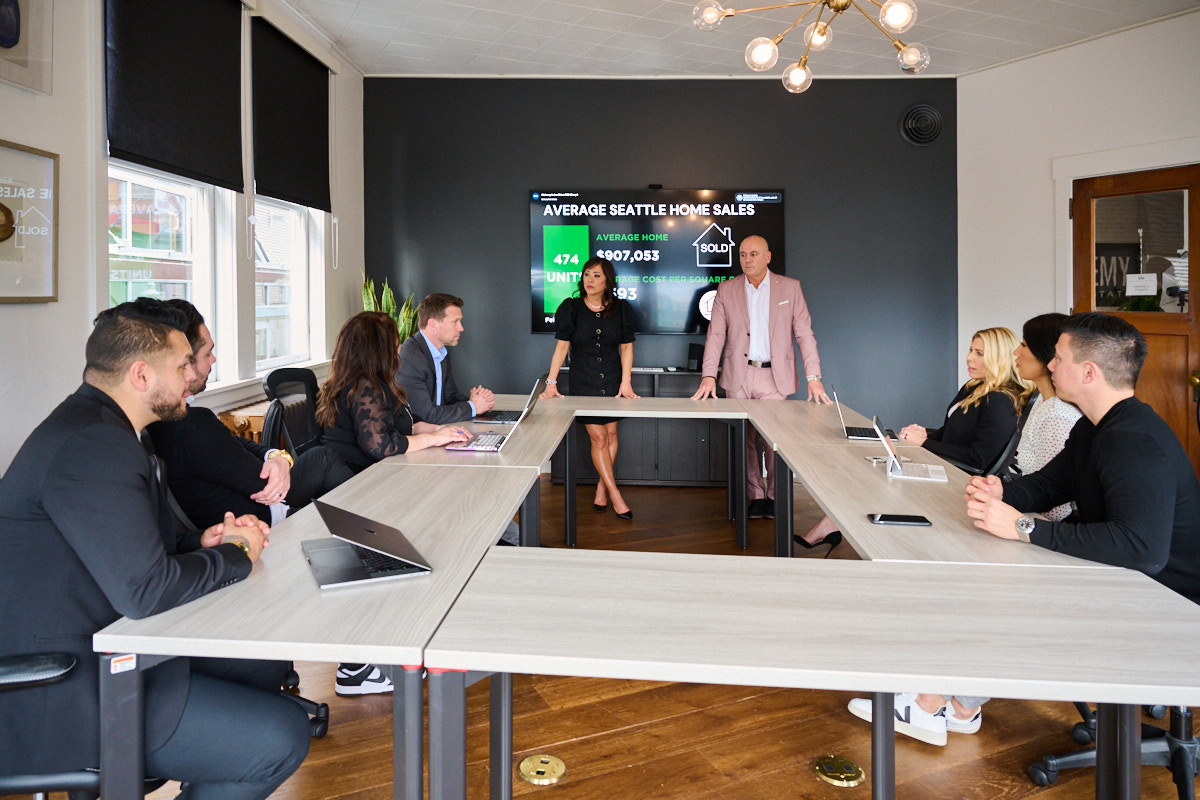 Having personally been at the helm of
2,950+ real estate sales
across their careers, the Tom and Rebecca duo has become the go-to team for builders and existing home sellers in the City of Seattle. Over the years, they have earned a fantastic reputation throughout the industry, as evidenced by their strong rate of repeat clients and referrals.
With this duo now ranked as the #1 listing broker duo in all of King County
in terms of homes sold, the two remain focused on the core values that set them apart. "Rebecca & I believe in providing our clients with hands-on customer service throughout the transaction," Tom says.
"Whether you're looking in the $500,000 or $5 million price range, you've got me in the car showing you the best options available.
We'll never pass your needs on to an assistant."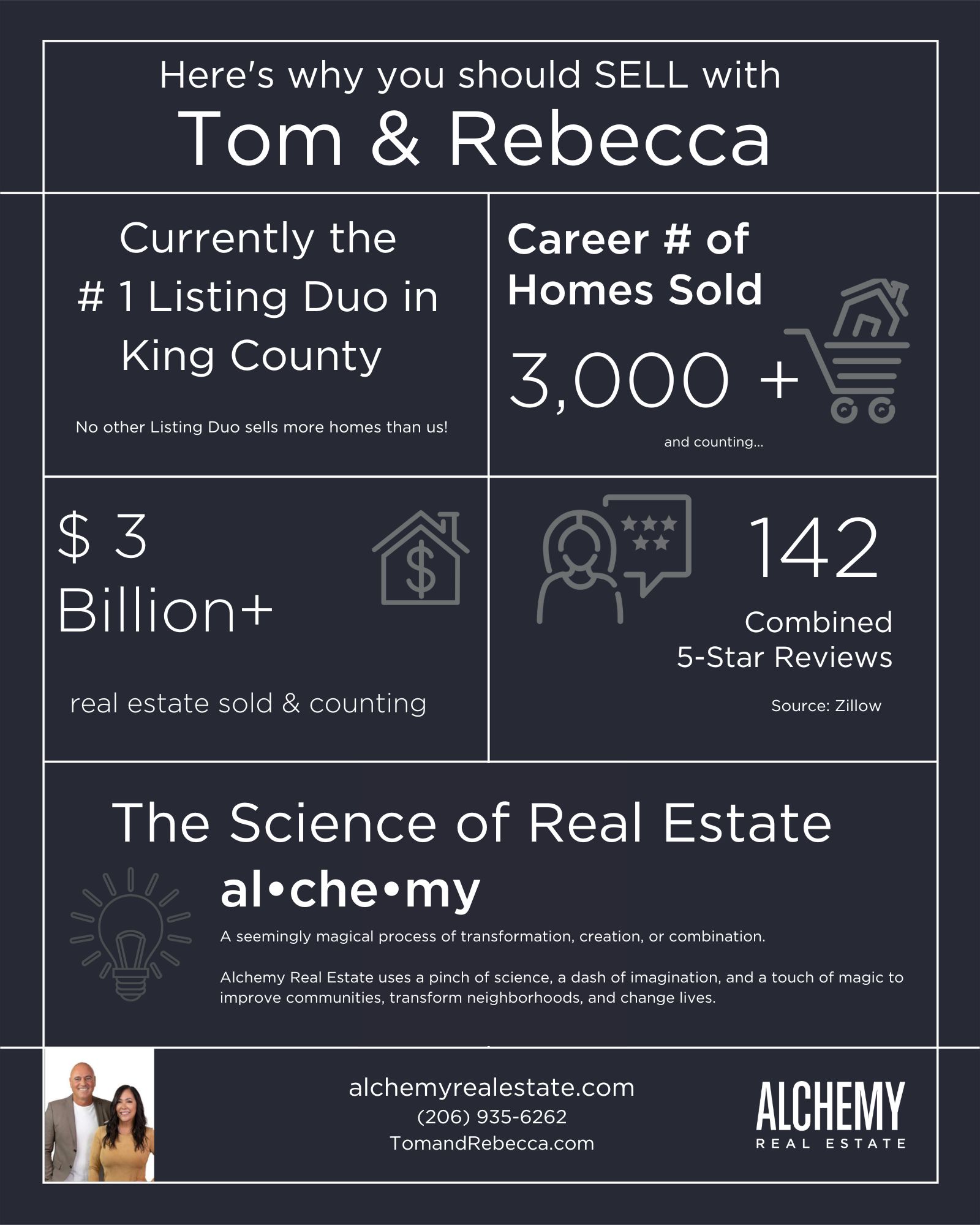 ---
Five Star Service, Every Single Time
Rebecca Mitsui
I absolutely loved working with Rebecca! I was completely floored by her level of expertise and all of the services she provided. Her knowledge of Seattle Real Estate, especially West Seattle, is unparalleled.
9/11/2019 - Sold a Condo home in 2019 in Arbor heights, Seattle, WA.
Tom Skepetaris
Tom assisted me in quickly finding and purchasing a new home.
Tom made the process easy and painless and I enjoyed working with him and his team.
I appreciate all of their hard work and effort in getting me into a new home.
I would highly recommend Tom and his team and would definitely work with him again in the future.
3/31/2022 - Bought a Single Family home in 2022 in Sultan, WA.
Tom and Rebecca, once again, we are so very thrilled with you both and the team that supports you. Every single recommendation you made was spot on, your marketing plan was superior, the end results phenomenal and besides all of that, you both were fun to work with!We have told EVERYONE how pleased we have been and have passed along the link to your website to several friends and coworkers in and around South King County. I just wish you all covered the Sequim area as well! When we mention the results to new friends and acquaintances here they shake their heads and mention how disappointed they are with their brokers here in this area. All the best to you both and thank you again!
2/28/2023 - Sold a Home in Federal Way, WA
I call Tom Mr. T. He is the greek magic because he make things that are impossible become possible. As a first time home buyer I had all these anxiety and fears, but because of Tom I was worried for nothing. He made my wife's and I experience smooth. Tom's professionalism, accountability, urgency, passion, ethic are the ones that anyone need into buying a home especially here in the Seattle area. Just do your part and Tom will sure do the rest. Tom thank you so much for all your patience and hard work in getting us a roof to live in. We couldn't ask for a better realtor because you're simply the best.
5/15/2022 - Bought a Home in Seattle, WA
We have used Rebecca as our agent to buy our first house, then years later when we decided to upgrade, she was our natural choice. She walked us though a contingency sale, holding our hands the entire way. She created a plan for us to sell and buy our new dream house, which all came to fruition. When we were nervous or anxious, she would ground us. She is an amazing agent but is even a better person! Could not recommend her enough!
8/10/2021 - Sold a Home in Gig Harbor, WA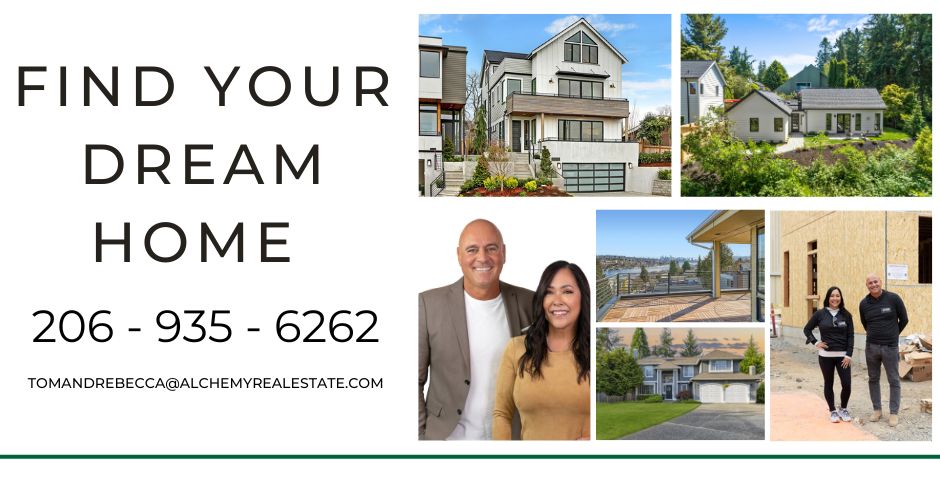 Outside of real estate, Tom and Rebecca are dedicated to their community. In honor of her grandfather, who first sparked her interest in real estate, Rebecca enjoys hosting fundraising efforts for local senior centers throughout the year. The two are just as committed to their industry, co-hosting Street Talk for NW News Radio-AM 1000, Seattle's #1 weekend talk radio show airing on Sundays from 9-11AM, where they field listener questions on the local market.
Tom and Rebecca's Recently Sold Homes
December 5, 2023
Tom and Rebecca's leadership spans three primary areas of operation at Alchemy Real Estate – Builder and Developer Services, Alchemy Retail Brokerage, and our Alchemy Luxury Division.
Alchemy Real Estate Builder Services
Tom and Rebecca lead Alchemy Real Estate Builder Services - the only Seattle firm with a complete, dirt-to-door development operation under one roof. With over 300 new Seattle homes in our development pipeline from dozens of developer partners, Alchemy Real Estate has our finger on the pulse of every nuance of the Seattle new construction market.

Learn more about Alchemy Real Estate's Builder Services Division
Alchemy Real Estate's Retail Brokerage
Tom and Rebecca lead a high-volume team of 15 professionals in Alchemy Real Estate's Retail Brokerage – an exceptional team that includes Agents, Market and Data Analysts, Marketing, Transaction Coordination, and Asset Management.

Learn more about Alchemy Real Estate's Retail Brokerage

Alchemy Real Estate Luxury Division
In addition to Tom and Rebecca's top position in Seattle single family home sales over the past several years, their combined luxury listing transaction volume includes over 185 homes over $1m sold in Seattle and the Greater Puget Sound area since 2015.

Learn More about Alchemy Real Estate's Luxury Seattle Real Estate Division
Want to know how much your Home is Worth?