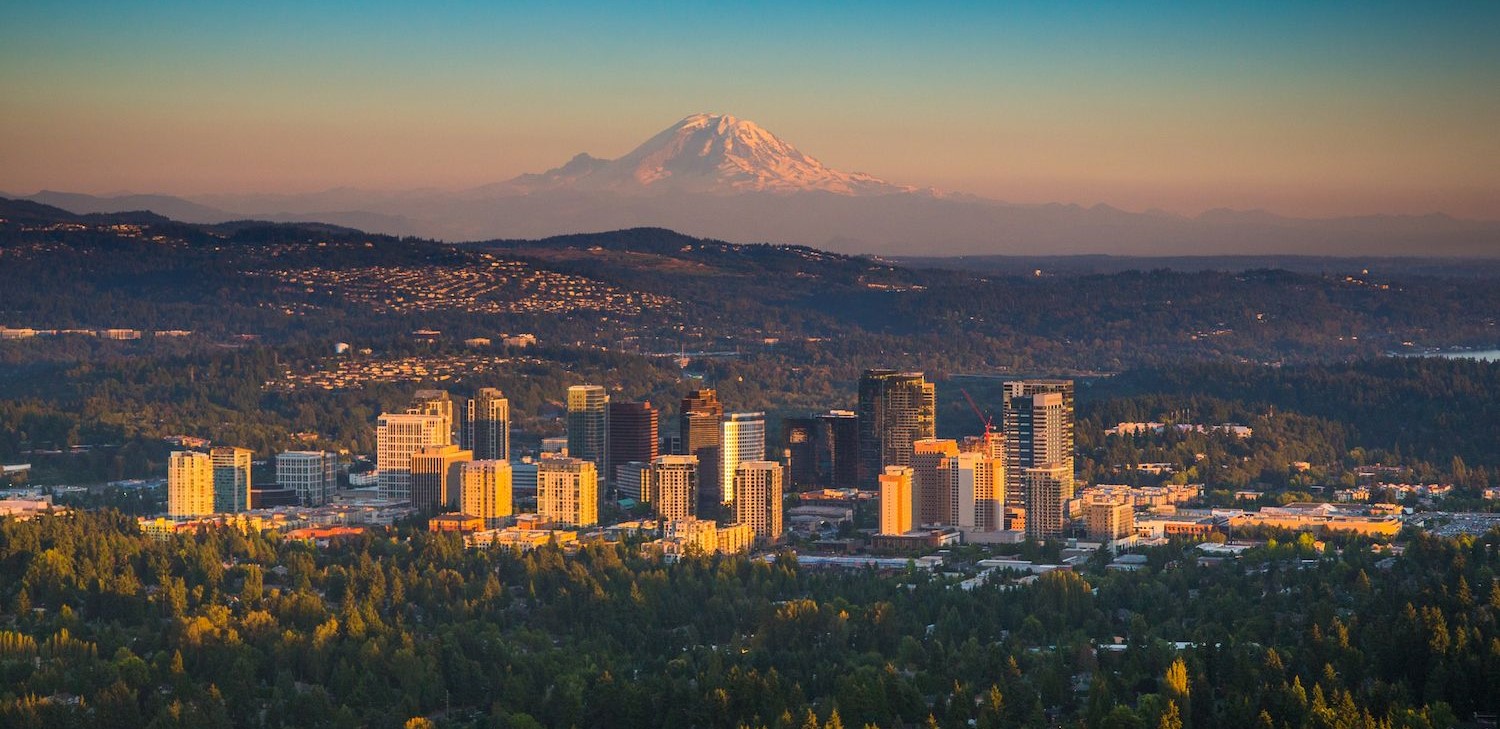 Bellevue, Washington - Neighborhood Guide
Primary housing types available in Bellevue, Washington
High Rise Condominium - Low-Rise Condominium - Townhomes - Single Family Homes - Apartments
A Brief History of Bellevue, Washington
Bellevue, Washington has a rich history that dates back to the mid-1800s. The area was first inhabited by the Duwamish and Squaxin tribes, who fished and hunted in the region for thousands of years. In the 1860s, pioneers began settling in the area, and the town of Bellevue was officially incorporated in 1953.
In the early 1900s, Bellevue was a small agricultural town with a population of less than 400 people. However, the construction of the Lake Washington Floating Bridge in 1940 changed the city's trajectory, connecting it to Seattle and spurring significant growth in the area.
Throughout the 1950s and 1960s, Bellevue experienced a significant population boom, with the city's population growing from less than 1,000 to over 20,000 by 1970. The city's growth was largely due to the expansion of the Seattle metropolitan area and the construction of several major highways, including Interstate 405 and State Route 520.
Today, Bellevue is a thriving city with a population of over 150,000 people. The city is known for its thriving economy, excellent schools, and beautiful parks and green spaces. While Bellevue has come a long way since its early days as a small agricultural town, it remains a vital part of the Pacific Northwest's history and culture.
All About Bellevue, Washington Today
Bellevue, Washington is a bustling city located in King County, just east of Seattle. With a population of over 150,000 people, Bellevue is one of the largest cities on the Eastside of Lake Washington. The city has grown significantly in recent years, attracting many people to call it their home. Here are a few reasons why Bellevue is such a great place to live.
Bellevue has a thriving economy that offers many job opportunities for its residents. The city is home to several major corporations, including T-Mobile, Expedia, and Microsoft. Additionally, the city's downtown area is filled with high-end retail shops, restaurants, and entertainment venues that attract both locals and visitors. The economy of Bellevue is a significant draw for people looking to relocate to the city.
Bellevue is home to some of the best schools in the state of Washington. The Bellevue School District consistently ranks as one of the top districts in the state, with many of its schools earning national recognition. The district has a reputation for providing a high-quality education to its students, preparing them for success in college and beyond. Additionally, Bellevue is home to several colleges and universities, including Bellevue College and City University of Seattle.
Bellevue is home to over 2,700 acres of parks and open spaces. The city's parks and green spaces offer residents a chance to enjoy the natural beauty of the area, with activities such as hiking, biking, and picnicking. Bellevue's most popular park, the 53-acre Downtown Park, features a beautiful waterfall, a reflecting pond, and a large grassy area for picnics and gatherings. The city's commitment to preserving its green spaces makes it an ideal place for nature lovers.


Bellevue is a diverse city that embraces many different cultures. The city is home to several cultural festivals and events throughout the year, including the Bellevue Arts and Crafts Fair, the Lunar New Year Festival, and the Diwali Festival of Lights. The city's diverse population brings a unique vibrancy to the area, making it an exciting place to live.
Easy Access to Seattle. Bellevue is located just 10 miles east of Seattle, making it easy for residents to enjoy all that the larger city has to offer. The city is easily accessible by car or public transportation, making it convenient for commuters who work in Seattle. Additionally, Bellevue's close proximity to Seattle means that residents can enjoy world-class restaurants, entertainment venues, and cultural attractions.
Bellevue is known for its safe neighborhoods, walkable downtown and relatively low crime rates. Bellevue residents are proactive about maintaining the safety of their neighborhoods, with many forming neighborhood watch groups and participating in community policing programs.
Bellevue is home to several world-class healthcare facilities, including Overlake Medical Center and Bellevue Medical Center. These hospitals provide residents with access to top-quality healthcare services, including emergency care, surgery, and specialty services. Additionally, Bellevue is home to many clinics and private practices, making it easy for residents to access healthcare services close to home.
Bellevue is a family-friendly community that offers many activities and events for families with children. The city's parks and open spaces provide ample opportunities for families to enjoy outdoor activities, such as hiking, biking, and picnicking. Additionally, Bellevue is home to several family-friendly events throughout the year, including the KidsQuest Children's Museum and the Bellevue Arts Museum.
Alchemy Real Estate Knows Bellevue!
With over 25 years of experience representing buyers and sellers in the greater Seattle area, we've helped our clients with nearly a dozen transactions in Bellevue alone!
With our Bellevue neighborhood experience, builder relationships and Alchemy Design Build project pipeline, we can show you homes available and actively for sale, as well as Bellevue neighborhood homes that are off-market and still under construction.
Begin your search for Homes and Real Estate in Bellevue, Washington
Contact Alchemy Real Estate Today!