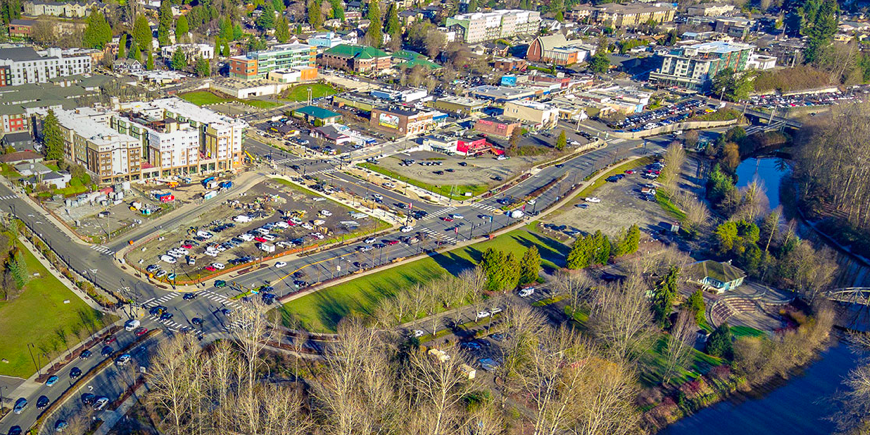 Bothell, WA Neighborhood Guide
Primary Housing Types Available in Bothell, Washington
Low-Rise Condominiums - Townhomes - Single Family Homes - Apartments
A Brief History of Bothell, Washington
Bothell, Washington has a rich history that dates to the late 1800s. The city was first settled b pioneers in the 1870s, who were attracted to the area's fertile land and abundant natural resources. The town was named after David Bothell, a settler who owned several pieces of land in the area.
In the early 1900s, Bothell was a small agricultural town, with a population of just a few hundred people. However, the construction of the Bothell-Everett Highway in the 1920s helped to spur growth in the area, as it made it easier for residents to travel to and from Seattle.
Throughout the 20th century, Bothell continued to grow and evolve. In the 1950s and 1960s, the city saw significant growth in its population, as more people moved to the area to take advantage of its proximity to Seattle. During this time, Bothell also began to develop a reputation as a hub for innovation and technology, with several high-tech companies moving to the area.
Today, Bothell is a thriving city with a rich history and a bright future. While it has come a long way from its early days as a small agricultural town, Bothell remains committed to preserving its heritage while embracing the opportunities of the future.
All About Bothell, Washington Today
Bothell, Washington is a beautiful city located in King and Snohomish Counties, just northeast of Seattle. With a population of over 47,000 people, Bothell is a thriving community that has a lot to offer its residents. Here are a few reasons why Bothell is such a great place to live.
Proximity to Seattle
One of the biggest draws of living in Bothell is its proximity to Seattle. The city is just 20 miles northeast of downtown Seattle, making it easy for residents to access all that the larger city has to offer. Whether you're looking to enjoy world-class restaurants, cultural attractions, or shopping, Seattle is just a short drive away.
Great Schools
Bothell is home to several excellent schools, making it an ideal place to raise a family. The Northshore School District, which serves Bothell, is one of the best school districts in the state of Washington, with many of its schools earning national recognition. Bothell High School, in particular, is known for its rigorous academic programs and exceptional athletics.
Beautiful Parks and Trails
Bothell is home to several beautiful parks and trails, making it an ideal place for nature lovers. The Burke-Gilman Trail, which runs through Bothell, is a popular destination for walkers, runners, and cyclists. The city's parks, including Bothell Landing Park and Blyth Park, offer residents a chance to enjoy the natural beauty of the area, with activities such as picnicking, hiking, and fishing.
Vibrant Downtown Area
Bothell's downtown area is a vibrant hub of activity, with plenty of shops, restaurants, and entertainment venues. The city's Main Street is home to several locally owned businesses, including boutique shops and cafes. Additionally, Bothell's McMenamins Anderson School is a popular gathering spot, with a brewery, movie theater, and restaurant all housed within a historic school building.
Affordable Housing
Bothell is an affordable place to live, especially compared to many other cities in the Seattle metropolitan area. The city's median home price is around $700,000, making it a more accessible option for families and young professionals looking to purchase a home in the area.
Growing Job Market
Bothell is home to several major employers, including Philips Healthcare and Seattle Genetics. Additionally, the city's proximity to Seattle means that residents have access to a wide range of job opportunities in the larger metropolitan area. Bothell's growing job market makes it an attractive option for those looking to relocate to the area.
Diverse Community
Bothell is a diverse community, with residents from many different cultural and ethnic backgrounds. The city is home to several cultural festivals and events throughout the year, including the Filipino Festival and the Lunar New Year Celebration. Bothell's diverse population brings a unique vibrancy to the area, making it an exciting place to live.
Access to Outdoor Activities
Bothell's proximity to the Cascade Mountains and Puget Sound means that residents have easy access to a wide range of outdoor activities. Whether you're looking to go skiing, hiking, or kayaking, there are plenty of options available within a short drive from Bothell. The city's parks and trails also offer plenty of opportunities for outdoor recreation, making it an ideal place for active individuals and families.
Community Events
Bothell is home to several community events throughout the year, including the Bothell Farmers Market and the Bothell Block Party. These events offer residents a chance to connect with their neighbors and get involved in the local community. Additionally, Bothell's annual Fourth of July parade is a popular event, attracting residents from throughout the area.
Alchemy Real Estate Knows Bothell!
With over 25 years of experience representing buyers and sellers in the Seattle area, we've helped our clients with 5 transactions in Bothell alone!
With our Bothell neighborhood experience, builder relationships and Alchemy Design Build project pipeline, we can show you homes available and actively for sale, as well as Bothell neighborhood homes that are off-market and still under construction.
Begin your Search for Bothell Area Homes and Real Estate