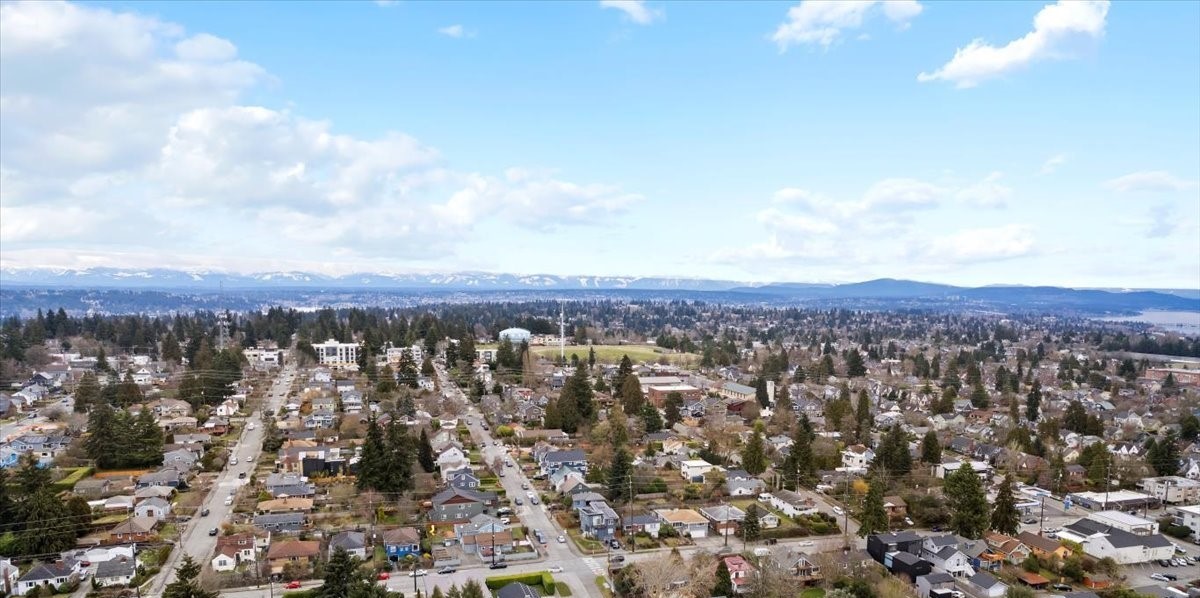 Maple Leaf, Seattle Neighborhood Guide
The Maple Leaf Neighborhood's primary residential housing types consist of:
Low-rise Condominiums - Townhomes - Single Family Homes - Rental Apartments
A Brief History of Maple Leaf
Maple Leaf, a neighborhood located in northeast Seattle, has a history that dates back to the early 1900s. Originally a rural area with a few scattered homesteads, it began to develop in earnest after the establishment of the Roosevelt streetcar line in the 1920s. Maple Leaf became a popular residential area in the 1930s and 1940s, with many single-family homes built on its quiet streets. During World War II, the neighborhood saw an influx of defense workers who built aircraft for the war effort. In the 1950s and 1960s, the area underwent significant commercial development, including the construction of the Northgate Mall shopping center. Today, Maple Leaf is a mix of residential and commercial spaces, with a strong sense of community and a commitment to preserving its historic character and natural beauty.
All About Seattle's Maple Leaf Neighborhood Today
Seattle is known for its vibrant neighborhoods that offer unique living experiences to its residents. One of the neighborhoods that stand out in this aspect is Maple Leaf. Located in the North Seattle area, Maple Leaf is a highly desirable place to live. In this article, we'll explore the benefits of living in Seattle's Maple Leaf neighborhood.
Location and Accessibility
One of the major benefits of living in Maple Leaf is its location. The neighborhood is strategically located, providing easy access to major highways, freeways, and transportation systems. Maple Leaf is situated near the Interstate 5 (I-5) and Highway 99, which means that residents can easily get to downtown Seattle, the University of Washington, or Northgate Mall within minutes. Additionally, residents can also take advantage of the nearby bus lines and light rail stations, which offer fast and convenient transportation throughout the city.
Nature and Parks
Maple Leaf is surrounded by lush greenery, making it a perfect place for nature lovers. The neighborhood boasts several parks, including the Maple Leaf Reservoir Park, which features a large playground, a soccer field, and a walking trail. The park also has a beautiful view of the city skyline, making it an excellent spot for picnics, outdoor activities, and relaxation. Additionally, the neighborhood is near the Green Lake Park, a popular destination for Seattle residents to run, bike, swim, and socialize.
Community and Culture
Maple Leaf is a tight-knit community that values diversity and inclusivity. The neighborhood hosts several annual events, including the Maple Leaf Summer Social, which brings residents together for food, music, and games. There is also a Farmers Market held every Saturday, where residents can buy fresh produce, artisanal crafts, and other locally-made products. Moreover, Maple Leaf has a vibrant arts scene, with several art galleries, museums, and theaters showcasing local talent.
Schools and Education
Another benefit of living in Maple Leaf is the quality of education. The neighborhood has excellent schools, including the highly-rated Olympic View Elementary School, which is known for its rigorous academic curriculum, dedicated teachers, and diverse student body. Additionally, Maple Leaf is close to several top universities and colleges, including the University of Washington, North Seattle College, and Seattle University, making it an ideal location for students and academics.
Restaurants and Cuisine
Maple Leaf is a food lover's paradise, with a diverse range of restaurants and cuisines. The neighborhood has everything from classic American diners and coffee shops to international restaurants, such as Thai, Italian, Japanese, and Indian. Some of the must-try eateries include Snappy Dragon, a Chinese restaurant that serves authentic Sichuan cuisine, and Cloud City Coffee, a cozy cafe that offers artisanal coffee and homemade pastries. Maple Leaf also has several breweries and bars, such as Flying Bike Cooperative Brewery, which serves locally-brewed beer and hosts community events.
Real Estate and Housing
Finally, the real estate and housing options in Maple Leaf are highly desirable. The neighborhood is known for its beautiful homes, ranging from classic Craftsman-style houses to modern townhomes and apartments. The median home price in Maple Leaf is around $800,000, which is slightly higher than the Seattle average, but still relatively affordable compared to other upscale neighborhoods in the city.
Living in Seattle's Maple Leaf neighborhood offers a plethora of benefits. From its strategic location to its beautiful parks, diverse community, excellent schools, and top-notch cuisine, there is something for everyone in Maple Leaf. Whether you are a young professional, a family with children, or a retiree looking for a peaceful place to live, Maple Leaf has it all. If you are considering moving to Seattle or looking to move within the city, make sure to explore Maple Leaf.
Alchemy Real Estate Knows Maple Leaf!
With over 25 years of experience representing buyers and sellers in Seattle, we've helped our clients with nearly a dozen transactions in Maple Leaf alone!
With our Maple Leaf neighborhood experience, builder relationships and Alchemy Design Build project pipeline, we can show you homes available and actively for sale, as well as Maple Leaf neighborhood homes that are off-market and still under construction.
Begin your Home Search for Real Estate in Seattle's Maple Leaf neighborhood.
Contact Alchemy Real Estate Today!