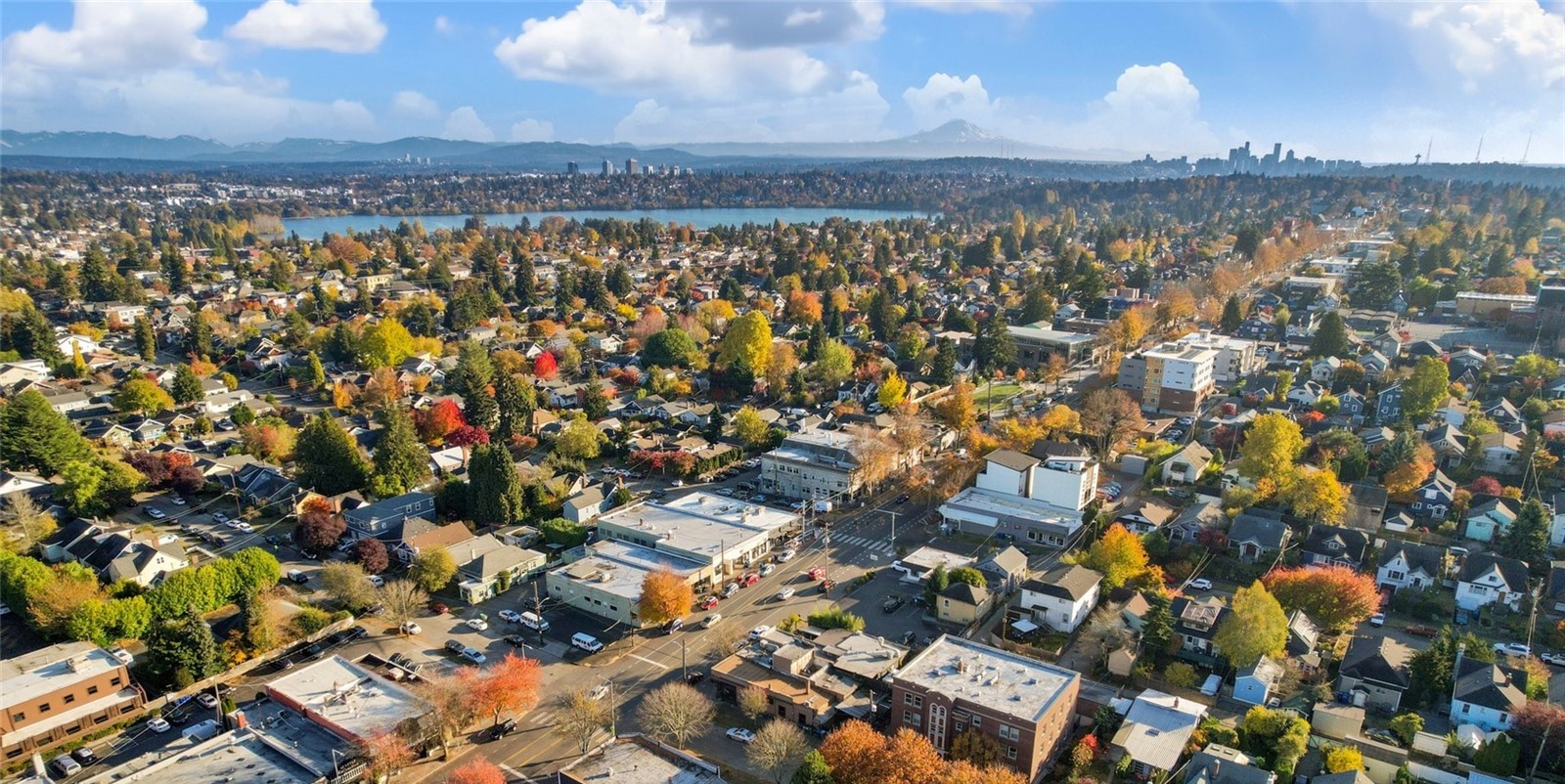 Phinney Ridge, Seattle Neighborhood Guide
The Phinney Ridge Neighborhood's primary residential housing types consist of:
Low-rise Condominiums - Townhomes - Single Family Homes - Rental Apartments
A Brief History of Phinney Ridge
Phinney Ridge, a neighborhood located in north Seattle, has a history dating back to the late 1800s. Originally a rural area with a few scattered homesteads, it began to develop as a residential neighborhood in the early 1900s, with many Craftsman-style homes built on its tree-lined streets. In the 1920s and 1930s, Phinney Ridge became a popular destination for Seattle's upper middle class, with several grand homes built on its hillsides. During World War II, the neighborhood saw an influx of defense workers who built ships and aircraft for the war effort. In the post-war years, Phinney Ridge underwent significant commercial development, including the construction of the Phinney Ridge shopping district. Today, the neighborhood is a mix of residential and commercial spaces, with a strong sense of community and a commitment to preserving its historic character and natural beauty. It is home to several parks and the Woodland Park Zoo, one of Seattle's most beloved attractions.
All About Seattle's Phinney Ridge Neighborhood Today
Seattle's Phinney Ridge neighborhood is one of the most sought-after places to live in the Emerald City. Nestled between Ballard and Green Lake, Phinney Ridge boasts some of Seattle's best dining, shopping, and entertainment options. It's a friendly, tight-knit community with an abundance of parks, green spaces, and opportunities for outdoor recreation. In this article, we'll explore some of the benefits of living in Phinney Ridge and what makes this neighborhood so special.
Proximity to Green Spaces
Phinney Ridge is surrounded by some of Seattle's most beautiful parks and green spaces. Woodland Park is just a stone's throw away and offers over 90 acres of recreational space, including a zoo, botanical garden, and miles of walking trails. The park also hosts events throughout the year, including the famous Woodland Park Zoo lights during the holiday season. Green Lake Park is also nearby, providing a perfect spot for a morning jog or a leisurely afternoon picnic.
Great Restaurants and Cafes
Phinney Ridge has a thriving culinary scene, with a diverse range of restaurants, cafes, and bars to choose from. Whether you're in the mood for sushi, pizza, or a gourmet burger, you'll find it all here. Some of the neighborhood's best restaurants include Stumbling Goat Bistro, In Bocca al Lupo, and Prost! Phinney, a traditional German beer hall. There are also plenty of coffee shops and cafes to choose from, including Fresh Flours, Herkimer Coffee, and Neptune Coffee.
Vibrant Art Scene
Phinney Ridge is home to a thriving art community, with numerous galleries, studios, and workshops in the area. The Phinney Neighborhood Association hosts a popular art walk every year, showcasing local artists and their work. There are also several art studios in the neighborhood, including Seattle Mosaic Arts, which offers classes and workshops for all skill levels.
Great Schools
Phinney Ridge is home to some of Seattle's best schools, making it a great place to raise a family. Greenwood Elementary School, Salmon Bay K-8 School, and Whitman Middle School are all highly rated by parents and students alike. There are also several private schools in the area, including the Seattle Waldorf School and the Phinney Ridge Lutheran School.
Easy Access to Downtown Seattle
Phinney Ridge is just a short commute away from downtown Seattle, making it a great choice for professionals who work in the city. The neighborhood is well-connected by public transportation, including several bus routes that run along Phinney Avenue. Alternatively, you can bike to downtown Seattle along the Burke-Gilman Trail, which runs through the neighborhood.
Family-Friendly Community
Phinney Ridge is known for its strong sense of community and family-friendly atmosphere. The neighborhood hosts several annual events throughout the year, including the PhinneyWood Art Walk, the Summer Streets Festival, and the PNA Wine Taste. The Phinney Neighborhood Association also offers a wide range of programs and classes for families, including parenting workshops, cooking classes, and summer camps for kids.
Diverse Housing Options
Phinney Ridge offers a wide range of housing options, from charming Craftsman-style homes to modern townhouses and apartments. The neighborhood is known for its well-maintained homes and tree-lined streets, making it a great place to settle down and put down roots. Whether you're a young professional looking for your first apartment or a growing family in need of more space, Phinney Ridge has something for everyone.
Access to the Outdoors
Phinney Ridge is surrounded by some of Seattle's most beautiful natural areas, making it a great choice for outdoor enthusiasts. The parks and open spaces in the immediate neighborhood combined with those just a short bike ride or drive away make Phinney an outdoor lover's paradise.
Make sure to add Phinney Ridge to your search if you are looking to move to Seattle or moving from another neighborhood within the city.
Alchemy Real Estate Knows Phinney Ridge!
With over 25 years of experience representing buyers and sellers in Seattle, we've helped our clients with around 40 transactions in Phinney Ridge alone!
With our Phinney Ridge neighborhood experience, builder relationships and Alchemy Design Build project pipeline, we can show you homes available and actively for sale, as well as Phinney Ridge neighborhood homes that are off-market and still under construction.
Begin your Home Search for Real Estate in Seattle's Phinney Ridge neighborhood
Contact Alchemy Real Estate Today!