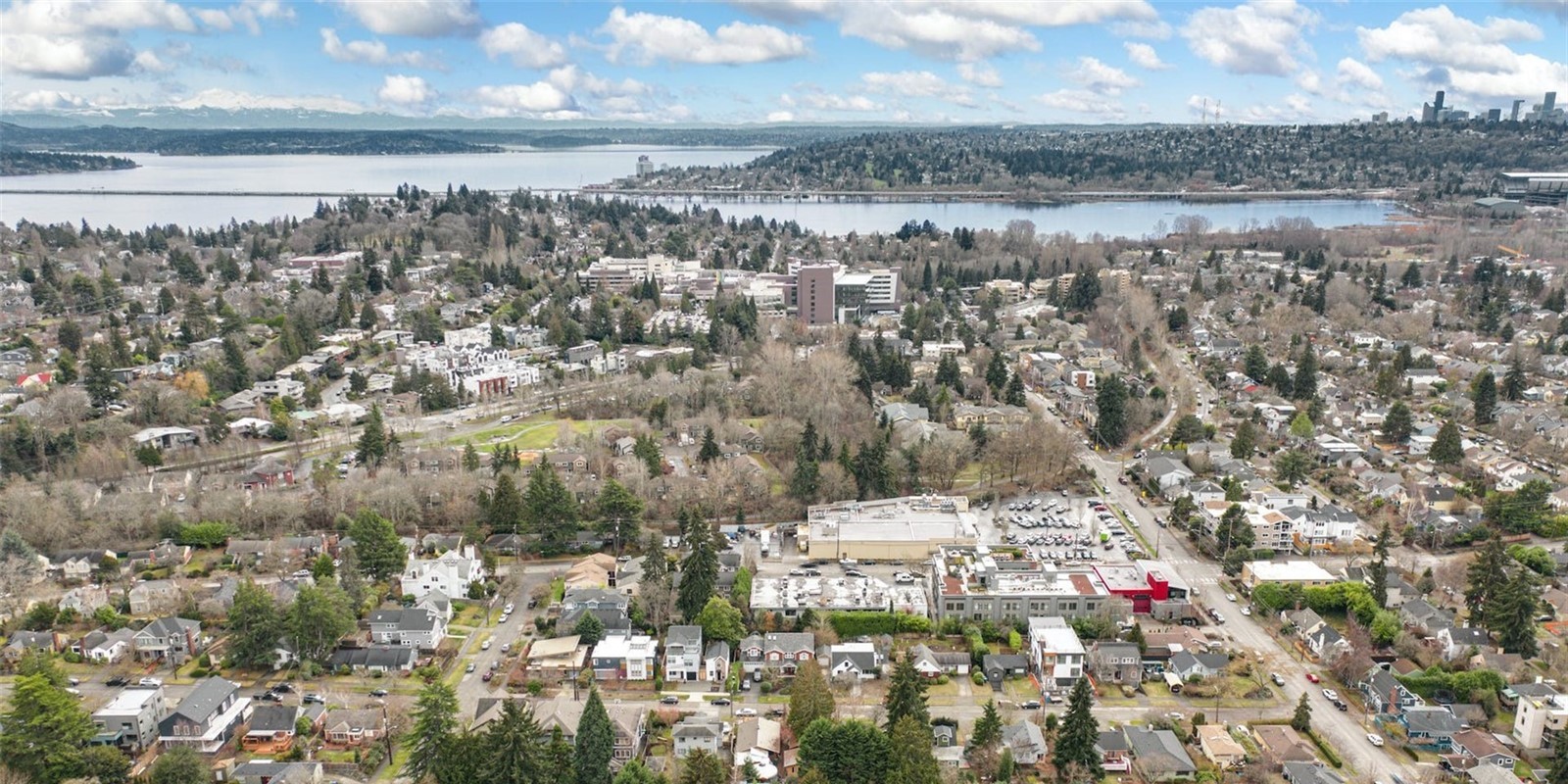 Ravenna, Seattle Neighborhood Guide
The Ravenna Neighborhood's primary residential housing types consist of:
Low-rise Condominiums - Townhomes - Single Family Homes - Rental Apartments
A Brief History of Ravenna
Ravenna, a neighborhood located in north Seattle, has a history dating back to the late 1800s. Originally a rural area with a few scattered homesteads, it began to develop as a residential neighborhood in the early 1900s, with many Craftsman-style homes built on its tree-lined streets. In the 1920s and 1930s, Ravenna became a popular destination for Seattle's upper middle class, with several grand homes built on its hillsides. During World War II, the neighborhood saw an influx of defense workers who built ships and aircraft for the war effort. In the post-war years, Ravenna underwent significant commercial development, including the construction of the Roosevelt Way shopping district. Today, the neighborhood is a mix of residential and commercial spaces, with a strong sense of community and a commitment to preserving its historic character and natural beauty. It is home to several parks, including the popular Ravenna Park, and the University of Washington's Seattle campus is located just south of the neighborhood.
All About Seattle's Ravenna Neighborhood Today
Seattle's Ravenna neighborhood is a hidden gem in the city, offering a perfect balance of urban and suburban living. Nestled between the University District and Lake City, this charming neighborhood is a favorite among families and young professionals alike. From its tree-lined streets to its close proximity to Seattle's top attractions, Ravenna has a lot to offer. Here are just a few of the benefits of living in Seattle's Ravenna neighborhood.
Ravenna's central location is one of its most significant benefits. Located just a few miles northeast of downtown Seattle, residents can easily commute to work or school while still enjoying a suburban lifestyle. The neighborhood's proximity to the University of Washington makes it a popular choice among students, while its easy access to the freeway allows for easy travel throughout the region.
Ravenna is home to several parks, including the popular Ravenna Park. The park features walking trails, a playground, picnic areas, and even a wading pool in the summer months. Ravenna Park also offers a peaceful escape from the hustle and bustle of the city, with plenty of greenery and wildlife to enjoy.
In addition to Ravenna Park, residents can also enjoy the nearby Green Lake Park, which features a 2.8-mile walking and biking trail, a swimming beach, and plenty of open space for picnics and outdoor activities.
One of the best things about living in Ravenna is its walkability. The neighborhood is home to several coffee shops, restaurants, and grocery stores, making it easy for residents to run errands on foot. In addition to its commercial amenities, Ravenna also offers several walking trails, including the Burke-Gilman Trail, which stretches for 18 miles from Seattle to Bothell.
Ravenna is known for its strong sense of community. The neighborhood is home to several community events throughout the year, including the Ravenna Art Walk and the Ravenna Garden Tour. Residents can also participate in community organizations, such as the Ravenna-Bryant Community Association, which works to improve the neighborhood and provide resources for residents.
Ravenna is located within the Seattle Public School district and is home to several top-rated public schools, including Bryant Elementary and Eckstein Middle School. The neighborhood is also located near the University of Washington, providing easy access to higher education opportunities.
Seattle's Ravenna neighborhood is a diverse community, with residents from all walks of life. The neighborhood's diversity is reflected in its many restaurants, shops, and community events, which celebrate the cultural heritage of the area.
Ravenna offers a variety of housing options, including single-family homes, apartments, and townhouses. The neighborhood is known for its historic homes, many of which date back to the early 1900s. Ravenna's tree-lined streets and well-maintained homes make it a popular choice among homebuyers.
Ravenna is located just a few miles from some of Seattle's top attractions, including the Space Needle, Pike Place Market, and the Seattle Center. Residents can also enjoy nearby movie theaters, museums, and performance venues.
Seattle's Ravenna neighborhood is well-served by public transportation, including several bus routes that run through the neighborhood. The nearby University of Washington also provides easy access to light rail and other forms of public transportation.
Ravenna is home to several health and wellness businesses, including yoga studios, gyms, and health food stores. The neighborhood's many parks and walking trails also make it easy for residents to stay active and healthy.
In conclusion, Seattle's Ravenna neighborhood offers an incredible residential experience and should be on your list of neighborhoods to explore if you are moving to Seattle from another area of the country or looking to move within the city.
Alchemy Real Estate Knows Ravenna!
With over 25 years of experience representing buyers and sellers in Seattle, we've helped our clients with over 50 transactions in Ravenna alone!
With our Ravenna neighborhood experience, builder relationships and Alchemy Design Build project pipeline, we can show you homes available and actively for sale, as well as Ravenna neighborhood homes that are off-market and still under construction.
Begin your Home Search for Real Estate in Seattle's Ravenna neighborhood
Contact Alchemy Real Estate Today